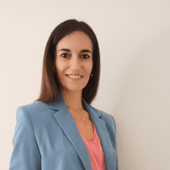 Christina Mimiyiannis
Talent Acquisition Team Lead DACH – Backoffice
Earthy chameleon
Christina is our multilingual philanthropist living in Berlin. Born and raised in France, she has also lived in Greece and calls the whole world home. She finds balance by traveling, meeting other cultures and being an advocate for people in need. All this has led her to work with refugees in the past.
In her spare time, Christina likes to do sports, take a walk in the city, and cook delicious home-made meals.
Her favorite part about working at birkle IT is the teamwork, where both successes and failures are always shared. She is driven by the friendliness, simplicity and flexibility of the company, which is the key to aligning and achieving team and personal goals.